Yelo has embarked on a digital transformation journey and netted a 5000% ROI while boosting bookings from digital channels as well as improving customer satisfaction rates exponentially with Labrys' strategic services and technology implementation support, achieving a success story.
Yelo, formerly known as Al Wefaq rent a car, was founded in 2000. Yelo is a regionally recognized brand in MEA with more than 80 branches in different cities and airports in the Kingdom of Saudi Arabia, United Arab Emirates and Egypt. Yelo is a value-oriented company. Rather than providing standard service with lower price, they are focusing on the quality of service they provide, and this is why they have a sound & growing market share. Their mindset is to stay at the forefront of technology, and hence delight customers, while always aiming to expand their offerings and global footprint.
Their main goal was to increase online bookings, increase the customer base & revenue from online channels and transform offline customers into online customers. Aligned with their overall value-oriented approach, they were looking to improve customer experience by trying to connect & stay in touch with all customers and prospects in every step of the customer journey. In order to achieve this goal, they've invested in Oracle Marketing Cloud technologies, i.e. Oracle DMP, Oracle Responsys & Oracle Infinity Streams in 2018 and kicked off their digital transformation journey.
With the help of Labrys, their trusted advisor and Oracle Certified Partner, initial year targets have been achieved in just 8 months and since then overall project ROI has topped to 5000%.
WHAT DID WE DO?
In order to kick start this digital transformation initiative, Oracle Responsys, Oracle Infinity Streams and Oracle DMP was implemented and integrated with the backend & frontend systems, like mobile app and web site at the first place.
Once all setup was complete, Labrys Expert & Strategic Services kicked in. Labrys team started helping & guiding Yelo Marketing team to navigate in such a complex ecosystem, which includes their geographically disbursed internal teams, other third-party technology vendors and business & agency partners.
Initially lack of human capital to run such a complex environment was the immediate challenge. There was also almost no connection between data sources, tech platforms and activation platforms. This was also leading to a struggle to measure and understand each channels'/platforms' attribution to the conversions. This led into misjudgment of results, provide disconnected journeys, rely on media spending to attract new audiences continuously but make inefficient media plans, which deteriorated conversions. Lack of data ingestion points (data model and integration) also led into become short on providing the desired experience to customers, as well.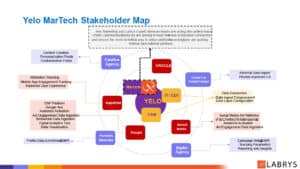 With the help of Labrys Strategic & Expert Services, apart from Oracle Marketing Cloud technologies, a holistic approach was put into place. Starting with planning of acquisition media campaigns and creation of multi-step journeys for multiple use cases that follows up acquisition campaigns, known & anonymous data sets were unified and enriched, all channel communications were orchestrated, audiences were created and served personalized experiences.
Thanks to Labrys' both systems integrator and marketing operation practices & capabilities, essential industry know-how was brought in, all stakeholders were started to get aligned and a long-term plan was designed and started to be executed, bringing concrete results in a very short term to management's appeal and hence below results were achieved in no time.
RESULTS
– With the new automated communications flow we designed by improving the data model and connections, we started to get detailed feedback about the consumer's satisfaction (VoC). New improvements were developed and we let customers discover some key features to improve their satisfaction like redeeming loyalty point the customer earned, etc. Customers approached Yelo with super positive feedback from both contact center and physical branches. Eventually, customer satisfaction has increased 75%.
– Positive Google Maps reviews also increased by 60% with satisfied customer reviews based on communications they get and their whole experience.
– We improved the online customer experience in terms of navigation and redirection within the digital assets. Such a seamless user experience comes with all tech platforms' integration (Appsflyer – Responsys – Ad Platforms) as more data points were collected with new journeys designed and this increased the overall engagement quality as well as digital ads conversion rate by at least 14%.
– With the new data model we've implemented and thanks to all new connections/integrations between platforms, we are able to get instant response from the ecosystem and hence be able to create much more personalized actions and communications (through and with the help of InfinityStreams – Responsys – Appsflyer – APICalls). Thanks to the new approach, we have increased the channel conversion rates by 20%.
– Thanks to all API connections we created to welcome our new registered users and by triggering a specific automated welcome program where we source the trigger from all channels, we managed to increase first engagement by 22% and app download rate by 15%.
– By connecting all assets and platforms we are now able to measure and track performances accurately. As a result of this tracking capability, we are able to understand journey drop-offs, and create cross-channel customer journeys where we are able to create efficient digital media plans and decreased cost per conversion by 33%.
– All in all, we've generated 28% more conversions overall & 5000% ROI from the project, thanks to our well connected & integrated platforms and digital assets, accurate tracking and measuring capabilities, creative and customer oriented automated programs,
All results are aligned with the Customer's quantitative expectations, i.e. increasing online booking ratio, increasing number of online bookings, increasing customer base from online channels as well as with the qualitative expectations, i.e. improving overall customer experience & positive feedback, connecting every step on the customer journey in a personalized and customized way.
WHAT'S NEXT?
Yelo continues this digital transformation journey today. Apart from the business perspective of this journey, more technology investments are in place, too, like Oracle Infinity IQ. As Labrys, with our strategic roadmap designed together with the customer, we'll make sure new plans would be implemented seamlessly.