In this article, you will find some informative content about the importance of combining, visualising and unifying data from different sources to get deeper insights about user behaviours and intentions. You will find some tips, the key points and also you will find some use cases which have been done by using Google Data Studio, Oracle Responsys, Oracle Eloqua and Adobe Analytics.
The Purpose
Understanding user behaviour would be the most informative & influential tool for you to have the right path for success in enhancing digital customer experience. It would imply you what your users need and looking for. Accordingly, you will have actionable insights about if you need to improve the UI or if you need to improve the range of your products or not. People search, click, zoom in/out, scroll and/or browse on your assets. Every behaviour pattern could provide different insights about the visitors' intentions and the way you should improve their experience.
To understand user behaviour, you need to analyse the data. So, you need to track the relevant touchpoints in order to get that data to be analysed.
Approach
While taking some actions and trying to reach and communicate with your audience, either from a single channel or multiple channels instead, be sure to track the reactions and engagements in each of them. Otherwise, you will lose the data you need to analyse and understand the attribution of that specific channel on your performance. And be aware that, users could have different intentions and behaviour patterns per their traffic source.
Before enriching data, you need to enhance your existing knowledge. So, having a holistic approach is critical. Not only digital advertising, but also CX marketing activities like Email, SMS, Web push, App Push are also pieces of your digital marketing activities and it needs to be involved on your digital analytics strategy even if it is managed by another party. Approach & strategy needs to be centralized and shared by all your parties. Every stakeholder needs to focus and understand the importance of tracking end-to-end user behaviour. The rest will be upon your technical ability and your creativity on visualizing it.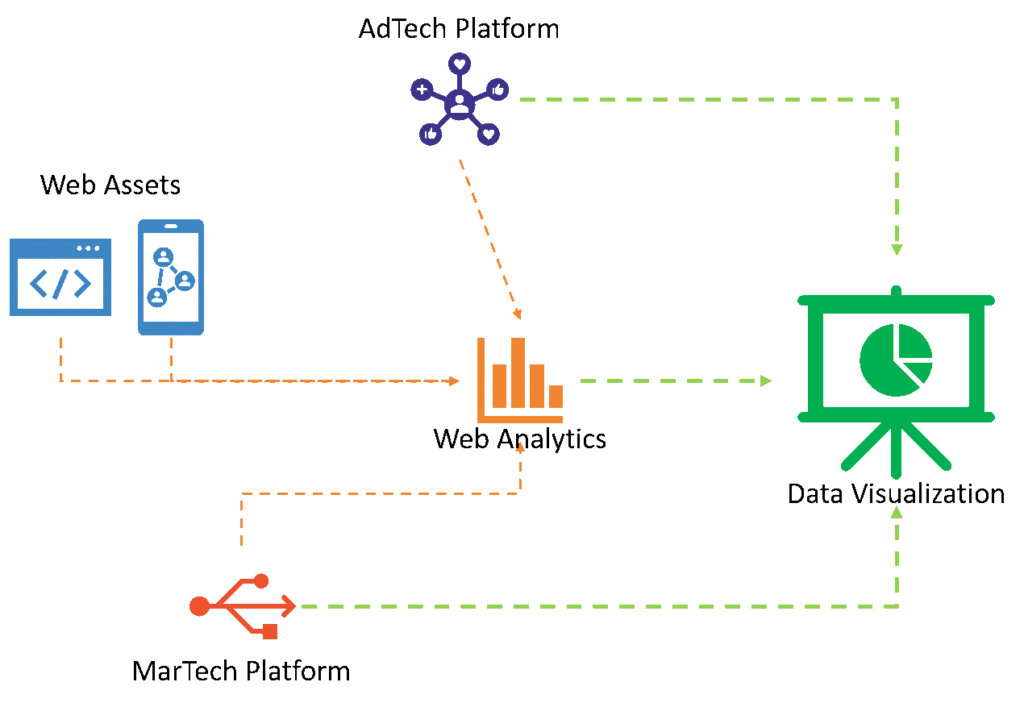 Technical Preparation
Obviously, you need to have a good infrastructure, a solid measurement plan and required technical skillsets to execute. Key points would be like to have understanding about tracking parameters, have a structured naming convention and defining which attributes you would like to pass.
Naming Convention
You could have several partners which manage different digital channels of yours. To get a simplified analysis and to make sure that every one of your partners addressing the right field with the right information, you need to have a structured naming convention for tracking parameters. For example, here are some basic tips to keep it structured,
Stick with lowercase.
Use dashes not space or underscores.
Have a parameter generator file where some cells could be restricted and be selectable from dropdown list.
Defining Attributions You Would Like to Pass
Every detail counts. Why wouldn't I want to see more details about my users and why wouldn't I want to have a chance to drill down in my data deeper? For example, let's assume that we will send promotional emails. Since I have the details of my customers on CRM system, I may look after to send customer IDs during user clicks and redirect them to the website. Thus, I will be able to unify website behaviours with that specific customer even though s/he is not logged in. Moreover, I will be able to see their past touchpoints and traffic sources like if that specific user has come to my site before from another channel like search. Or perhaps, I may want to send customers' CRM segment, so that I could make some segment analysis in return. In the light of this approach, attributions need to be defined to pass and enrich our analysis.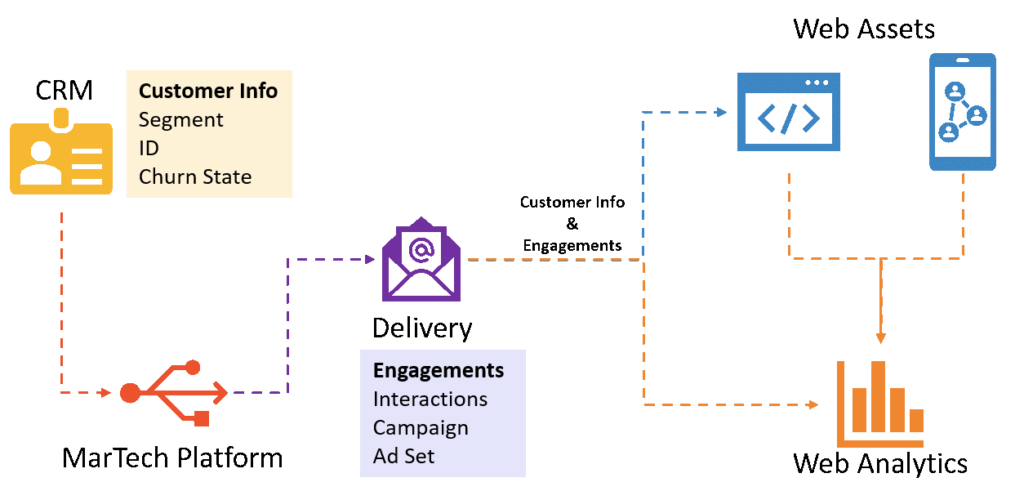 Setting Up Tracking Parameters
Until now, we have created a structured naming convention and we have defined the attributes that we would like to pass to gather better insights. Now, it is time to combine all and set tracking parameters. Every tool could have its own URL scheme to track and thus map your parameters with the dimensions. For example, while Google using its UTM solution, Adobe uses different scheme where dots and dashes has functionalities to map fields.
Combining Data and Merge Behaviors Form Both Side
Finally, we are now able to combine outcomes and unify it under a primary key dimension. As mentioned above, this could be Customer ID or Segment Name or just Channel Name itself for basic analysis. Please see the scheme below, this is how it will work.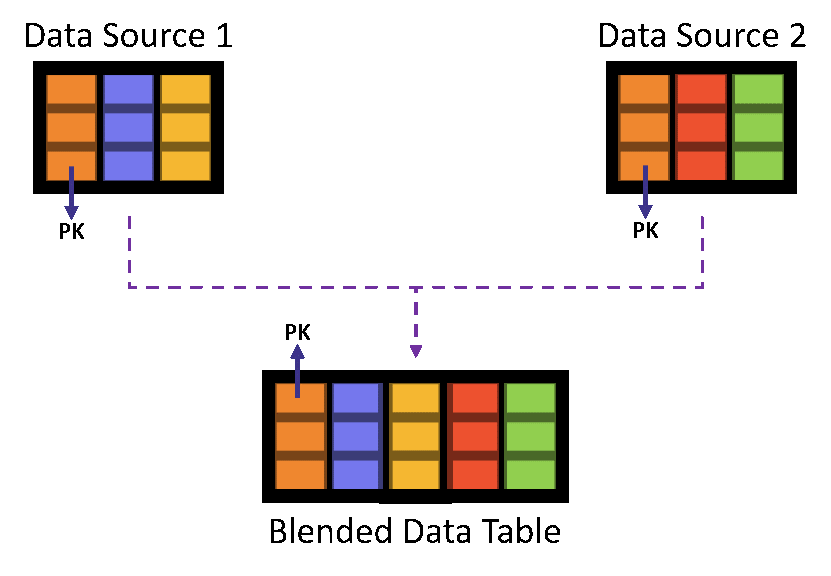 Visualization
Visualizing raw data will bring the insights out of it, so let us see the hidden details. Many types of visualization methods are available from simple tables or pie charts to more advanced versions as scatter graphs or heatmaps. It is important to make it simple, focused and consumable.
One thing should be clear: This is not a data mining process but focusing to make key metrics visible would be efficient. For example, rather than putting every correlated metric on the table, you could look to create calculated metrics and just show how correlated they are. We already have the numbers; we need that specific insight. So, bring it out.
    Raw Table

Simplified Visualization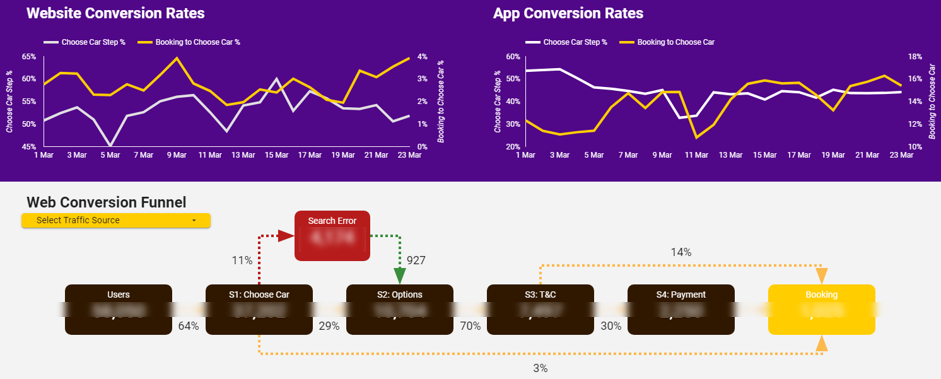 All these efforts will worth it. You will be able to focus on "actionable metrics" rather than just looking "vanity metrics". Actionable metrics will be your calculated and visualized metrics. Those will show you how effective you have run your campaign. For example, you could have run an email campaign which has higher open rates and you could consider it as a successful campaign but what if it's not converting on your web assets aligned with your KPIs? Now, which metric is more important to consider, open rates (vanity) or web conversion rates (calculated & actionable)?
Some Use Cases From Labrys' Clients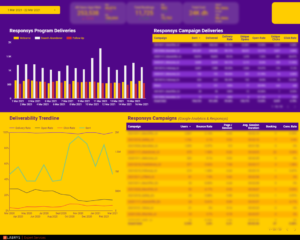 A Car Rental Company
Our client uses Oracle Responsys and Oracle DMP products as AdTech and MarTech platforms for marketing automation activities and to improve customer experience. Using Oracle Responsys for sending emails and push notification purposes. Labrys providing Expert Services with a wider scope which includes budget planning to utilizing platforms and covers all digital marketing plans.
We have created a custom dashboard by using Google Data Studio. Combined all their ad platforms and marketing stacks in one for providing the whole picture in an executive showcase. For combining their Responsys activities with web asset behaviors, we used campaign name as primary key and managed to see which email/pn campaigns are resulting with very best conversion rates.

A White Goods Company
Our client uses Oracle Eloqua and Oracle DMP products as AdTech and MarTech platforms for marketing automation activities and to improve customer experience. Alongside they are using Adobe Analytics for as web analytics solution. Using Oracle Eloqua for sending emails and sms purposes. Labrys providing Expert Services as their CRM Agency and covers all areas for CX and CRM activities from planning to execution.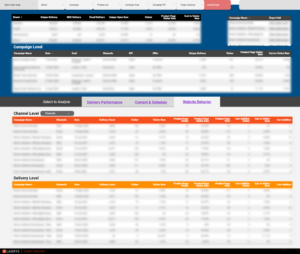 We have created a custom dashboard by using Google Data Studio. Combined Eloqua data and Adobe analytics data. Implemented some dynamic parameters on their redirection URLs for emails and as a result we've been able passback users CRM attributes like segments and ID's to Adobe for combining their Eloqua activities with web asset behaviours. We managed to gain insights about specific segments where some segments more intended to just open emails but not performing as desired on the website while others are performing better on website even they had low email interactions. These insights had shaped our segmentation and content strategy throughout the year. And as a result, users whom get communicated being activated 6 times more than whom didn't.