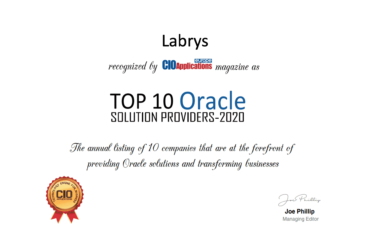 We are very proud to announce that Labrys has been recognized as one of the Top 10 Oracle Solutions Providers in 2020 by CIO Applications Europe Magazine.
This is another registration of Labrys' growing regional expertise about providing the best solutions to their customers for CX transformation in their business after winning Oracle's "Customer Experience Cloud Partner of the Year" award in 2017 and in 2019.
As Labrys Team, "with the synergy of our technology and strategic services powered by our experiences in both marketing and technology, we close the gap between brands and technology". We are looking forward to sustaining our success in marketing and advertising technologies, have desired results and get more rewards.
Click here to find more details about this news