Please watch the Turkish video here or continue reading for the English article.
Digital marketing is a concept, long discussed, eventually diluted and redefined by everyone according to their own needs, especially in the last decade. Some refer it, shortsightedly, as a synonym of social media communications only, while there are others who had a holistic view on all assets and engagement points with target audiences. But these are the times when we dropped "digital" as an adjective in front of "marketing" as a definition.
Audience journeys are not linear as it used to be, brands have a very limited time/window of opportunity to communicate messages as audiences' attention is very fragmented due to channel chaos and message bombardment from multiple sources. Today, as many say, "attention is the new currency", but being relevant is definitely the key to engage and activate audience behavior.
In such an environment, tracking and putting meaning to every digital footprint of audiences and orchestrating the customer journey with a consistent "experience" becomes one of the critical jobs of marketers. On the other hand, providing meaningful customer experiences is not enough for today's organizations, but also it is critical for today's Chief Marketing Officers to step up and show their contribution in company growth. Every action in the communication funnel needs to be tied into a revenue metric and should be tested & optimized with many hypotheses.
Today's pioneer CMO must have 8 important skills in order to go beyond the existing organizational struggles of short-termism: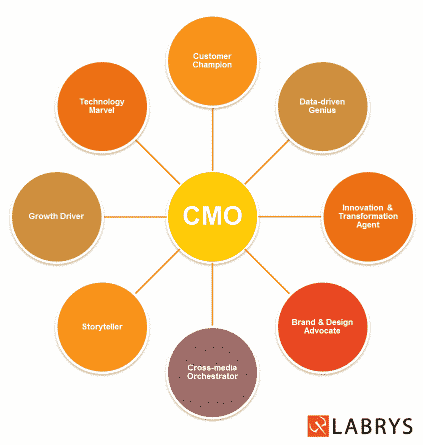 Being the owner and advocate of the "Customer" within the organization is a natural priority. But in order to achieve this, on top of existing traditional marketing operations responsibilities, he/she needs to be a "data-driven genius" to track and understand the digital body language of the prospective customer. But today, the definition of the data has changed dramatically, i.e. it is not only the transactional data of the customer in a traditional CRM system, but also a deeper understanding of digital footprints is a must in order to get engaged at the right time with the right prospect. This would have been an obscure task without the help of technology as an enabler to overcome the obstacles of the existing digital ID junkyard.
Having said this, being an "Innovation and Transformation Agent" would be an inspiring but challenging role for today's CMO in order to undertake marketer's role in the digital transformation efforts of the company. This would be associated with breaking the traditional silos created in each and every organizational structure, especially with respect to owning the customer and delivering the brand message while bringing in revenue as a result.
Being the "brand and design advocate" is an obvious task within the company for a CMO but delivering the associated messages to the customer needs "consistent storytelling" in multiple facades of the customer journey. Enabling marketing teams and agencies to create engaging content is the key for today's organizations and it is far more than a copywriting effort for a social post, usually assigned for a junior agency writer; thus this "orchestrated storytelling" strategy needs a special attention from the new CMO. The next generation CMO must focus on delivering these consistent stories in every channel and asset. So, this brings in the need to be a "cross-media orchestrator" for the new CMO, which also includes customizing multiple customer journeys with marketing automation in order to deliver personalized experiences and messages. This would also facilitate the right timing of the right message to the right audience/persona.
At the end of the day, all these efforts must be turned into growth drivers of the company and metrics should be set to connect digital activities to these drivers. All these efforts would prove to take the marketing efforts to go beyond communicating sales promotions or brand awareness only, but towards creating more qualified leads for sales teams as well as generating more customer insight while providing meaningful customer journeys to all designated audiences.
---
Labrys CX & Digital Marketing Audit
Customer behavior has just changed in a month and nothing will be the same anymore. Customers tried new services, built up here-to-stay habits and all experience is digital now! Hence, it is time to act & plan on marketing transformation initiatives for all brands!
Labrys invites you to a fast & reliable CX & Digital Marketing Audit to score yourself, enabling you in your quest for better!
For a limited time and a very few number of corporations, it will be completely FREE!
---