New Generation CRM Solutions
Competition between the brands to gain and retain customers is keeping snowballing. According to Gartner's survey, 81% of the brands say that they are competing mostly or completely on the basis of customer experience. For this reason, companies are seeking for technologies which will help them to get know their customers better and support them to provide fast, high quality and personalized experiences to their customers. The new generation of CRMs, which is the centre of customer experience, is at the top of these solutions.
What is CRM?
Customer Relationship Management (CRM) systems are softwares designed to centralize and analyse customer data, to increase company performance by making daily operations smoother and to provide data to other customer experience applications. Most of the time CRMs are the basis of a good customer experience, although they are visible to the back-office users and actively used by them.
Customer Experience is the centre of new generation CRMs
Customer data are generally the starting point of the CRMs. For a long time, "traditional CRMs" were seen as sales force automations which only include steps in the sales funnel and given to the usage of sales teams. For this reason, the data collected could not go beyond the basic profile and sales data. Moreover, was not the purchase moment one and only important moment in the whole flow? However, in time, successful brands have shown us that purchasing lasts only "a moment" in whole customer journey thus, CRMs have started to serve many different areas such as service, marketing and loyalty besides sales, expanded its data borders by working integrated with other systems and storing customers'
previous interactions with the brand
service requests
opportunities
previous purchase history
expectations
routines
Gathering all these data on a single card for each customer, made it possible to get know them better and manage their journeys' from beginning to end, to offer them more personalized experience and to improve customer loyalty & brand value.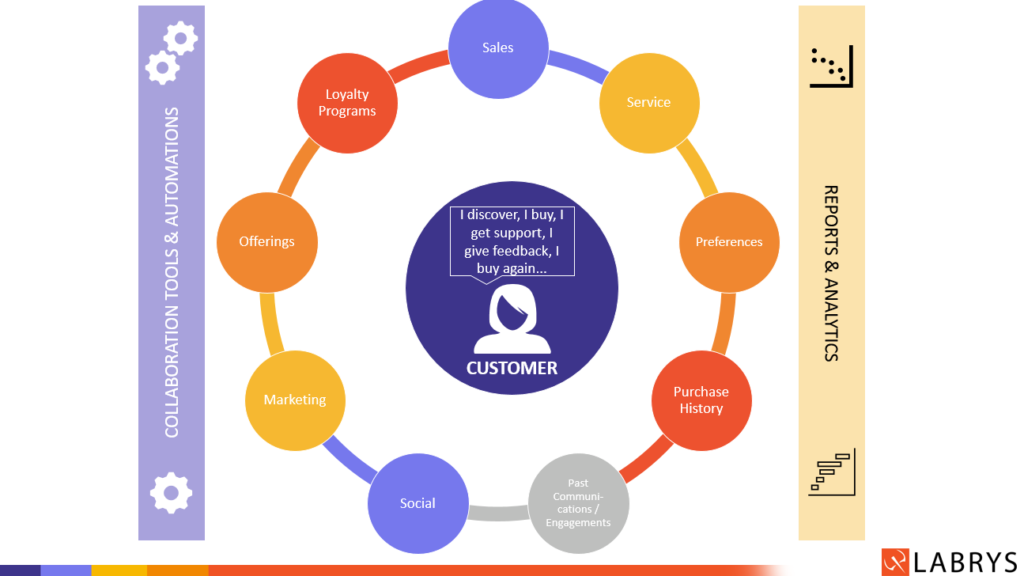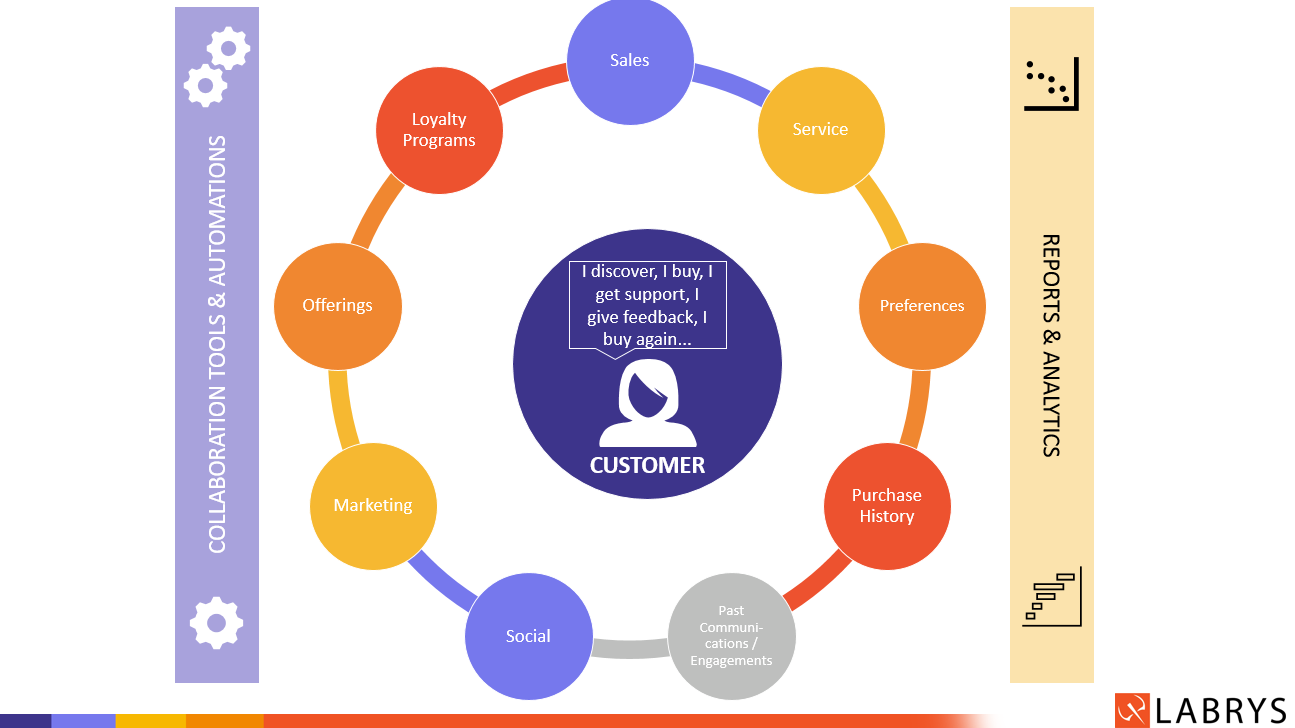 You may have a huge amount of customer data in your hand however, if these data are distributed in different systems with an approach "each department's data belong to its own", then your interactions with the customers will slow down and the experience you offer them will be interrupted by email traffic and your company's internal processes. A single person or department may be in interaction with your customer at the moment of purchase however, the whole customer journey includes more people and departments during pre- and post-sales steps. Purchasing and receiving payment might be the most important moments for you but you should not ignore other moments which have brought your customers to that moment and might bring them back and, try to understand them beyond purchase moment. For this reason, you should make your customers' 360 view visible to everyone within the organization who is or may be in interaction with them thus, in every engagement you can give them message "We know you and provide you fast service tailored to your needs".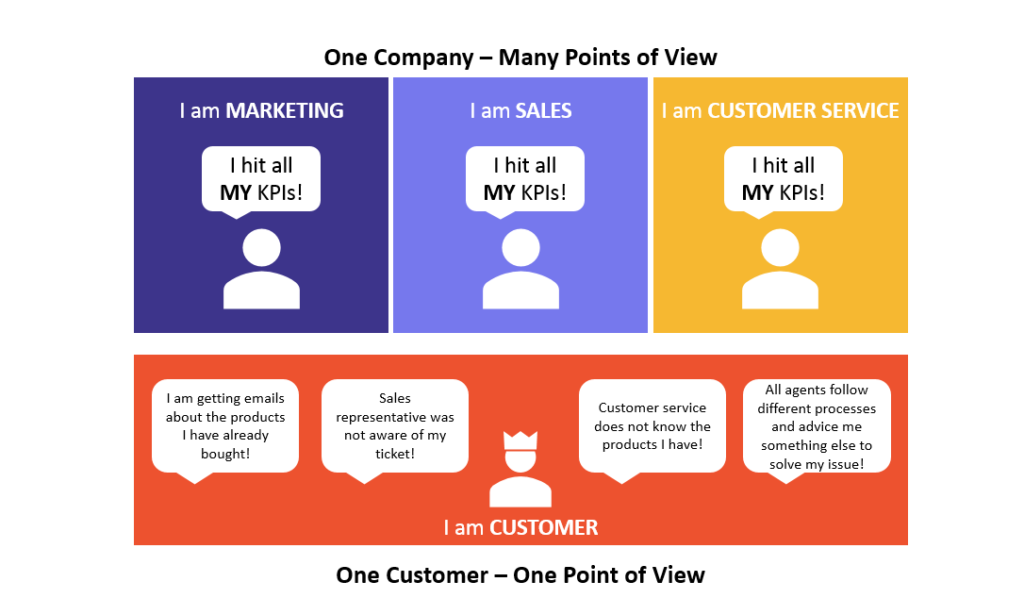 Data become meaningful with new generation CRMs and daily operations get easier
Besides knowing your customers, the key point of CRM is how effectively you use what you know. At this point, a business intelligence application (BI) working integrated with your CRM will be your irreplaceable. The data you have can provide insights to many departments such as sales and marketing, and even product development. Data to be collected and analysed must be discussed surely during the design phase of your CRM however, over time, new data will come out from your daily operations and current data set, and new performance indicators (KPIs) which need to be measured and tracked will show up. Your CRM and BI infrastructure should be flexible enough to fulfil these new requirements immediately and support you to improve your processes.
A CRM fed by many different systems will become a rich data pool over time and provide data to different units for different usages. The "sine qua non" (essential) of that kind of rich CRMs are the collaborations tools and automations which will make your internal collaboration easier and reduce manual work. By leaving notes, call logs on opportunity or service request records, creating tasks for yourself or for your colleagues, you can minimize your email and telephone traffic, and build a strong archive for each customer and topic. An automation which tracks tasks on behalf of you, sends reminders and notifications will also reduce your workload thus and so, you can focus more on creating value for your customers.
Labrys CRM Applications Approach
For us, CRM is the basis of a good customer experience and a tool which makes daily operations smoother for its users. Since Labrys was founded, we have completed various projects in different countries and industries with different CRM solutions for sales and aftersales usage. The core of all CRM solutions, and even all customer experience applications, is technology and software however, if you do not support this with right strategy, it will be difficult for you to get the efficiency you desire. For this reason, we value our clients' in-company and industrial experience, and combine it with Labrys' technology, customer experience and process management experience. During the workshops and weekly project meetings, we make the optimal CRM designs in a single team spirit and implement them in a short time.
Contact us now to learn more about solutions and how CRMs can make a difference for your customers and company.