As Peter Drucker said, the purpose of business is to create and keep a customer. To be the winner of the pitched battle between brands to gain and retain customers, today brands must provide exceptional customer experience more than ever. No doubt, the main points for a high-quality customer experience is to be a "smart" brand by
knowing your customers,
being on all channels and orchestrating these, hence not managing them as separate silos,
engaging with customers through right channel with focused content at the right time.
To do these, organizations must have a complete architecture with correct applications for an integrated omnichannel data structure. At this point, Labrys Global proudly presents its "CX and Marketing Technologies Architecture" as a framework to guide brands on the road to be a high performer. This is the underlying technology architecture of the recently announced "Labrys Modern Marketing 2.0 Framework"
ADTECH, MARTECH, CRM, ERP – ALL IN ONE TO BUILD MEMORABLE CX 
Today's organizations must understand that success lies in connected data. To have this, all customer experience related applications must be connected with each other. By highlighting the importance of integration, Labrys summarizes architecture in 3 main parts: 
The centre of the architecture with CRM, marketing automation, CDP, and ecommerce platform are introduced as the core of the "new data". This core triggers points of outbound engagement & answers the personalization requests in inbound channels and platforms. It is the bridge between known & anonymous world, which creates results. 
Backoffice applications such as ERP, POS and further transactional systems which support data enrichment. 
Media and advertisement activation is not only to just activate data but also to enrich it with 2nd and 3rd party data.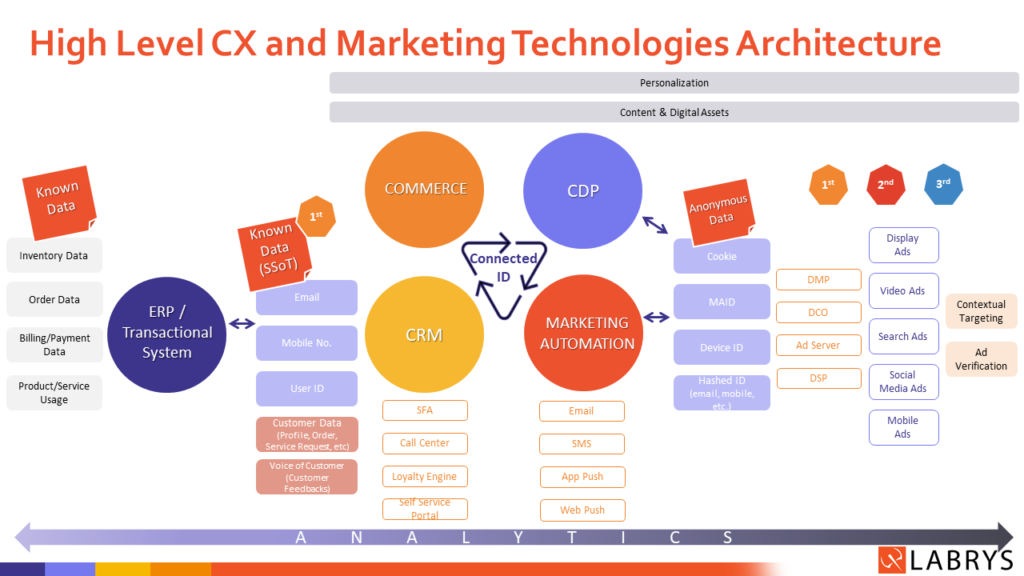 CRMs FOR CENTRALIZED SOURCE OF OMNICHANNEL JOURNEY DATA 
New generation of Customer Relationship Management (CRM) tools include components which generate inbound data like salesforce automation (SFA), call centre solution and self-service portal, as well as engines such as loyalty modules to drive outbound communication. Certainly, to build a 360 view, this part of the architecture needs to include all kind of customer data including profile data, incidents, and customer feedbacks, and also order, payment, product or service usage data coming from ERP and transactional systems. Combination of 1st party known data populated in each and every module gives us the ability to reach to a single source of truth for each customer and it is the heart of the architecture. 
COMMERCE TO ENRICH AND ACTIVATE DATA  
Pandemic has resulted in permanent change to our shopping behaviour and digital commerce (either web-based, mobile, social or even voice) has now more importance to serve customers. As online shopping is preferred more than before, brands have now more opportunity to know their customers by following their digital footprints and reach them real time for conversion. Today, "digital commerce" is for all brands and serves in the architecture to enrich and activate data.  
CDP FOR SMARTER OMNICHANNEL ENGAGEMENT  
By collecting data from all online & offline applications into Customer Data Platform (CDP), it is possible to build a rich, consented 1st party data pool to segment behaviours and preferences into audiences and push them to all engagement channels such as marketing automation platforms for orchestrated journey by using email, SMS, app & web push channels, or into different advertising channels for segmented targeting, remarketing and conversion optimization. While having outbound engagements through different channels, it is also important to do this with relevant assets and contents in a personalized manner.  
DATA MAKES DATA! 
If your architecture is successful enough to ditch the silos and consolidate the data, you can start using it to create personalized content. Engagement between your organization and customers by using these contents will not only generate additional behavioural data needed for further content development but also strengthen your core data layer to know your customer. While there are options to enrich organization's data with 2nd and 3rd party data, brands must be aware of one of the biggest upcoming transformations in advertising starting from 2021; i.e. cookieless world and need to learn to enrich/create more data signals out of their 1st party data. 
MEASURE, ANALYSE, OPTIMIZE – OVER AND OVER AGAIN 
Last but not least, a highly important component to support CX strategy is Analytics. You need to have reporting and analysis tools integrated with the modules in the architecture to track your success. You need to measure, analyse, and optimize your engagements and strategy for a sustainable & successful customer experience. 
The new era of marketing and the purpose of this architecture is to activate content by using integrated omnichannel data and create personalized omnichannel experience.  
Contact us to organize a call and let us discuss how to transform your CX architecture.